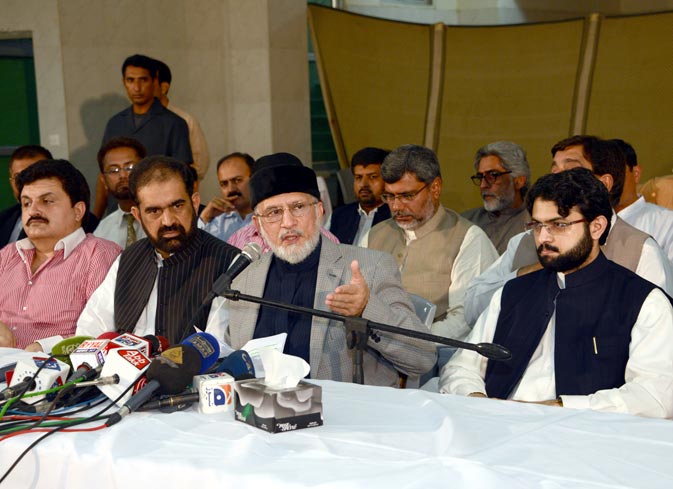 Operation Zarb-e-Azb launched by Pakistan military is based on truth. The whole nation should extend its moral, political, ideological and spiritual support to the armed forces in their fight to purge Pakistan of external and internal terrorism. Twenty-five packets of food and medicines are being dispatched for Internally Displaced Persons (IDPs) immediately. I will myself visit their camps soon. The provincial governments should allocate sufficient resources in their budgets for respectable stay and rehabilitation of the IDPs. Punjab Police committed the worst ever terrorism of history on the unarmed, innocent and peaceful workers. The Prime Minister and the Chief Minister should explain as to why they sent hundreds of Gullu Butts in civvies in police vehicles. We condemn heavy handed police action and PEMRA terrorism on TV channels and cable operators. We would file a case against the federal government and Emirates Airlines.
These views were expressed by PAT chief Dr Muhammad Tahir-ul-Qadri while addressing a press conference in the party's secretariat on June 24. He said that Zarb-e-Azb operation launched by Pakistan military for security of life and property of 200 million citizens was binding and justified morally, politically, ideologically and from point of view of Islamic law as well, adding that this great operation would lead to elimination of terrorism at internal and external fronts.
Dr Tahir-ul-Qadri announced that PAT would take out countrywide peaceful rallies on every Friday to express solidarity with the armed forces, adding that these rallies would be followed by public Iftar parties in the cities' squares in evening during the holy month of Ramadan. He asked the trader community and affluent sections of society to play their role in arranging Iftar parties and express their support for the armed forces. He also announced to dispatch 25,000 packets of food and medicine for the IDPs of North Waziristan which would be distributed among them with the cooperation of the army and the local government authorities.
In a reply to a question about the Model Town carnage, Dr Tahir-ul-Qadri said that the worst ever terrorism of history was perpetrated on the workers of PAT. He said that Qisas of each and every drop of the injured's and martyrs' blood would be taken. He said that PAT workers were peaceful; otherwise, they could have attack Raiwind palace and the Chief Minister's House. He said that he would file a case as per law against the federal government and the Emirates Airline for illegal diversion of flight from Islamabad to Lahore because his plane was hijacked and forcibly made to land in Lahore. He said that PAT workers reaffirmed their peaceful credentials when they did not resort to any violent response in the wake of committal of violence on them, adding that had he wanted, they could have taken over the Islamabad and Lahore airports.
Dr Qadri said that Punjab Police tortured peaceful PAT workers in Islamabad like they did in Lahore. He said that hundreds of Gullu Butts in civvies were transported to Islamabad airport to spread chaos and rioting, attack PAT workers and police officials. He said that PAT had informed media about this plot in advance. He said that hundreds of PAT workers including children and women were attacked in Koral area of Rawalpindi while they were offering prayers and police party led by SHO Koral Rafaqat baton-charged them, and fired at them during the raid. He said that likewise dozens of hired killers of Thana Chontra were transported to the airport for arson, violence and rioting there.
Dr Qadri said that on the one hand, the worst ever state terrorism was committed against our peaceful, unarmed and innocent workers by the police and to add insult to injury, they were booked for various fake offences including anti-terrorism charges and tortured during incarceration in police stations. He said that 1400 workers including women had been rounded up from Islamabad and Rawalpindi alone while police crackdown was underway to arrest PAT district and Tehsil leadership and their workers.
Dubbing PEMRA as official terrorist body in the wake of persecution and attacks on cable operators and electronic media, Dr Tahir-ul-Qadri demanded that the regulator should be shut down. He appealed to the honourable Supreme Court to take notice of this matter, demanding and a new institution consisting of impartial people should be established after consultation with all stakeholders and journalists community.
Expressing his no confidence in the judicial commission set by the government of Punjab to probe Model Town tragedy, Dr Tahir-ul-Qadri rejected it. He demanded that a joint investigation team consisting of representatives from ISI, IB, and MI should be set up to hold investigation into the killings of innocent people in Lahore and the matter must be heard by a 3-member Commission of the Supreme Court Judges. In reply to a statement of a government's minister, he said that only time would tell as to who would have law in his hands.