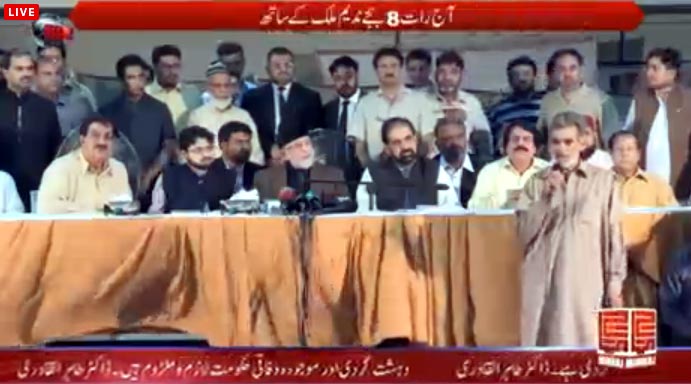 I would not bargain over the blood of martyrs. I would take revenge for every drop of blood. There is no way we are going to forgive those who shed blood of the innocent and unarmed workers. After the revolution, we would, firs of all, catch those who took part in perpetrating state terrorism. Unflinching resolve of the martyrs and steadfastness and consistency of their families have held my head high with pride. I have begun to hate Punjab police after the Model Town carnage. The police officials should take retirement now for the sake of Allah's pleasure, love of the Holy Prophet (SAW) and repentance on the Day of Judgment. The present government has a few days left in power and we give a damn to the government's financial assistance for the bereaved families.
PAT leader Dr Muhammad Tahir-ul-Qadri expressed these views while talking to heirs of martyrs and the injured during a meeting at the central secretariat in Model Town, Lahore. Addressing those indulging in propaganda, he said that he gave a damn to Rs. 2000 billion what to speak of Rs. 200 billion. He said that we would take care of and provide for the martyrs and the injured ourselves, adding that we would not trade the blood of martyrs for money. He said that accountability for each and every bullet fired by the terrorists would be conducted. He said that he had formed a four-member committee for maintenance of the martyrs' families that would chalk out a comprehensive programme for provision of support/maintenance to them. He said that as long as Hitler, Pharaoh and Mussolini were power in the persons of Sharif brothers, he would not accept any Commission. He said that neither any justice could be done nor fair investigation carried out in their presence.
Dr Qadri said that we would take 'Qisas' after the revolution and terrorists and killers involved in massacre would not be able to escape justice. He also announced to build a memorial in the memory of martyrs in the central secretariat. He further stated that flowers would be placed at memorial points at provincial and divisional headquarters on daily basis and candles would be lit in memory of the martyrs. He directed to continue this practice till the coming of revolution and vowed to light one big candle in Islamabad on the successful completion of revolution.