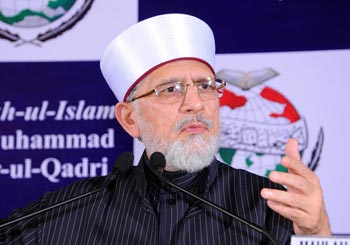 PAT chief Dr Muhammad Tahir-ul-Qadri has said that he would announce the date of revolution march in a day or two. He said that following the announcement, the millions of people would take to the streets on that day and topple the incumbent corrupt, killer rulers in accordance with law and the constitution. He said that the day is not far when the killer-rulers would be behind bars facing law over their act of killing 14 innocent civilians. He said that the blood of the martyrs would water the plant of revolution and there was no way this sacred blood would be betrayed under any circumstance. He said that the rulers would not be allowed to flee the country on the day of revolution. He asked the women to play their key role in ridding the nation of exploitation and repression by taking to streets on the day of revolution march.
Dr Tahir-ul-Qadri expressed these views while addressing the meeting of PAT Women Wing's Executive Council in Lahore on July 31. Women Wing leaders Razia Naveed, Ayesha Shabbir, Huma Waheed, Syeda Shazia Mazhar, Syeda Nazia Mazhar, Shahida Mughal, Farida Sajjad, Rafia Ali Qadri, Farah Naz, Nabila Yousaf, Nazia Abdul Ghaffar, Malika Saba and Nabeela Zaheer were also present on the occasion.
Dr Tahir-ul-Qadri said that the current government that came into power on the basis of fake votes had not been representative of even minority what to speak of majority. He said that those who made the country a police state would be held answerable for their actions, adding that all those involved in the Model Town tragedy would face the law and be meted out exemplary punishment after the revolution. He said that the killer police officials killed women at the behest of the rulers in an attempt to scare them away from revolution. He said that women were fully determined to take to streets on the day of revolution march and no power of the world could stop them from playing their due role in making revolution a success.