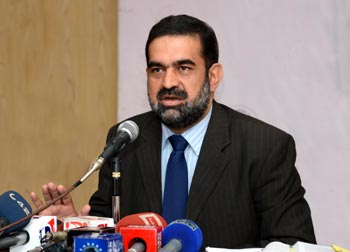 PAT President Dr Raheeq Ahmad Abbasi has said that the people will get their constitutional rights with the establishment of a real democracy. He said that the domestic users are getting inflated electricity bills by 50% due to massive corruption, adding that a letter written by Transparency International Pakistan (TIP) has exposed the so-called 'people-friendly' face of the present government. He said that the letter unveiled by Transparency has proved that the people are having to pay inflated electricity bills as a consequence of corruption in distribution companies. He said that the government is directly involved in over-billing and its announcement to pay back the fleeced money to consumers is merely a façade meant to hoodwink them. He said that it is the leadership of Dr Tahir-ul-Qadri only that will rid the people of corrupt system and oppression of the government departments.
Dr Raheeq Abbasi stated this while talking to central and provincial office-bearers and workers of PAT in the central secretariat here. Khurram Nawaz Gandapur, Sheikh Zahid Fayyaz, Jawad Hamid, Sajid Bhatti, Hanif Mustafvi, Mushtaq Nonari and others were present on the occasion.
Dr Abbasi said that the rulers who were not tired of claiming to end load-shedding in months have hit the poor hard with drones of over-billing in addition to their failure to bridge soaring gap between demand and supply. He said that the people have come to the end of their tether and are no more ready to bear this oppression anymore. He said that businesses and industry have been hit hard due to massive energy shortages and over-billing on consistent basis has further aggravated the situation. He said that this sorry state of affairs has forced jobless people to take the extreme step of even committing suicides in addition to spawning social evils in society. He said that the government cannot hide its failures under the mask of sit-ins.
The PAT President said that Transparency International Pakistan has exposed the real face of the government before the Prime Minister, adding that it is the same organization from whom the Chief Minister of Punjab had got a clean-chit in respect of laptop purchase and metro bus scandals. He said that the letter written by TIP has rejected the claims of the ministers that sit-ins harmed economy and consequently relief could not be provided to the people.