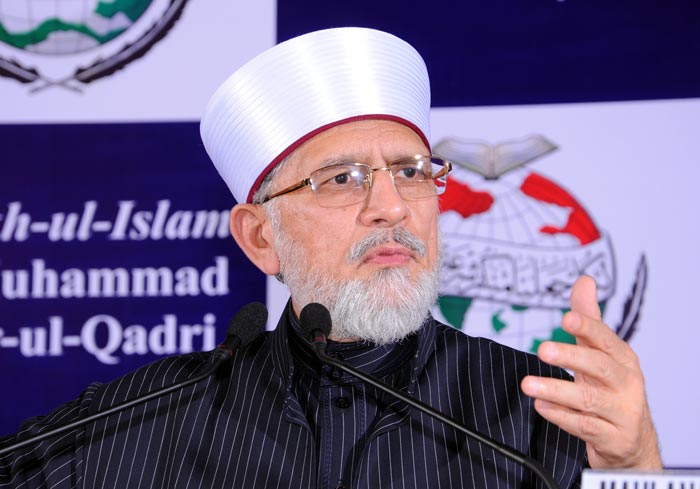 PAT Chief Dr Muhammad Tahir-ul-Qadri has said that the rulers do not enjoy any credibility in the world community as international financial institutions have refused to oblige the government by directly providing aid to the government it had requested for rehabilitation of Internally Displaced Persons (IDPs) and the flood affectees. He said that this not less than a slap in the face of this corrupt system and the government. He said that our fight is against this system of loot and plunder and we would only rest once we are able to eliminate it for good. He said that we would make Pakistan regain its lost glory.
Dr Tahir-ul-Qadri expressed these views while talking to various delegations in Taxes on November 12, 2014. He said that every institution has been destroyed due to lack of honest leadership. He said that about Rs. 4000 billion are lost to corruption annually and there is none to hold the corrupt accountable. He said that corruption has so permeated the body politic that the world thinks twice before giving aid money to the governments in case of even natural disasters.
Dr Qadri said that according to our information, World Bank has said in response to the government's appeal that if at all they decide to give aid for rehabilitation of flood victims and IDPs, the aid will not be given directly to the government. Rather World Bank will itself oversee and monitor the distribution of aid and that it will deduct $8 dollars out of every $100 in terms of expenditure. He said that what can be a greater insult to a nation that no one is ready to trust their rulers and institutions. He said that the international financial institutions have refused to accept the veracity of a damage assessment report prepared by the Ministry of Finance in connection with estimation of flood losses and rehabilitation of IDPs.
The PAT Chairman said that this corrupt system has caused irreparable damage to the country economically, politically, and morally, adding that the nation has decided not to put up with this system anymore. He said that PAT promises with every Pakistani citizen that it will not rest till it sends this corrupt system packing. He said that there would be equality of law for everyone and the one violating law would not be able to escape its long hand.