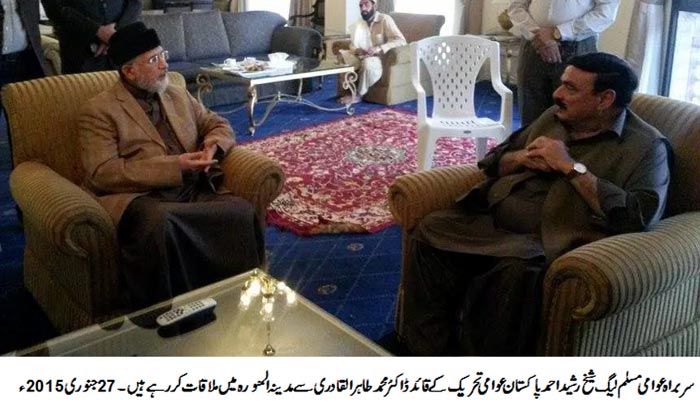 Sheikh Rashid Ahmad, the head of Awami Muslim League, called on PAT chief Dr Muhammad Tahir-ul-Qadri in holy city of Madina today. Both leaders exchanged views on current political situation in the country and ongoing war on terrorism.
Speaking on the occasion, Dr Tahir-ul-Qadri said that the present rulers are as lethal a scourge as terrorism and as long as they remain imposed on the nation, the people would continue to suffer one crisis after another and various challenges from bad governance to fuel shortage to terrorism will continue to recur with full force. He said that they are deceiving the nation through sugar-coated statements. He said that lust for money was at the heart of plethora of crises that have hit the country so far, adding that one thing has been proven that the rulers have sufficient experience of looting the national exchequer.
Dr Tahir-ul-Qadri reiterated that we would not rest till the killers of Model Town victims face justice. He said that every drop of blood of the innocents will be avenged through courts and law. He said that the PAT leadership has been issued notices instead of providing justice in the Model Town case. He said that no tactic of the rulers can make us budge from the goal of seeking justice for the affected families. He said that his struggle is to steer 180 million people out of shackles of corruption, oppression and injustice.
Speaking on the occasion, Sheikh Rashid Ahmad said that the nation is praying for early recovery of Dr Tahir-ul-Qadri. He said that Dr Qadri is the name of a movement and a strong voice against oppression, adding that the nation looks forward to him to guide them at intellectual and scholarly level and lead a struggle for packing up of the system of oppression.
Sheikh Rashid apprised Dr Tahir-ul-Qadri in detail about the double standards of rulers in connection with rigging and their hypocritical conduct with regard to war against terrorism. To this, Dr Qadri said that whosoever, whether an individual or a party, raises a voice against system of oppression, we will extend our support. Both leaders had their dinner together.