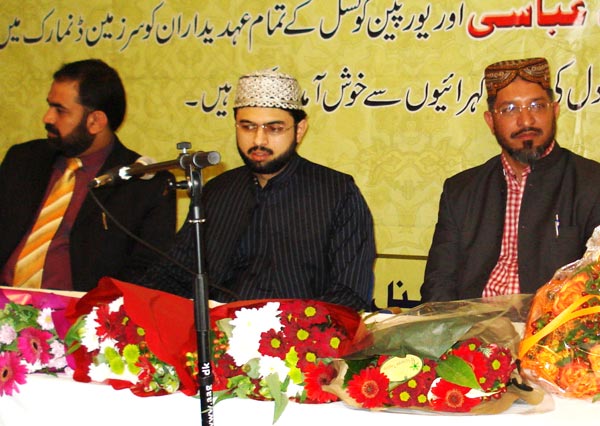 On August 7, 2008 (Thursday), a prestigious Workers Convention was held in the Minhaj Welfare and Educational Centre Valby (Denmark). Those who graced the occasion as chief guests were as follows:
Sahibzada Hassan Mohi-ud-Din Qadri (president Supreme Council MQI)
Dr Raheeq Ahmad Abbasi (Secretary General MQI)
Allama Hassan Mir Qadri (Amir European Council MQI)
Haji Gulzar Ahmad (patron European Council MQI)
Prior to the start of the programme, hundreds of people including women had taken their seats. At 18:15 pm, Muhammad Owais Qadri (Minhaj Welfare and Foundation Centre Valby) led the Aser prayers. Hafiz Nadeem Yousuf (Director MQI Denmark) was invited to take over the proceedings of the programme. Muhammad Bilal Uppal helped him conduct the programme.

The proceedings of the programme got under way with the recitation from the holy Quran by Hafiz Sajjad Ahmad. The following people had the honour of reciting Naat:
Muhammad Ashraf Uppal
Hussain Shah
Muhammad Jamil
Raja Akber
Muhammad Waseem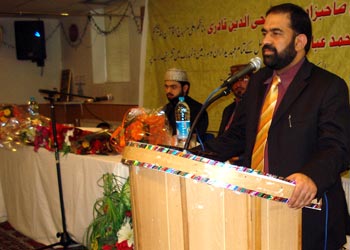 People gave standing ovation to the visiting guests upon their entrance into the hall. Muhammad Bilal Uppal (president MQI Denmark) presented performance report of MQI of 11 months, which was lauded by Sahibzada Hassan Mohi-ud-Din Qadri.

Addressing the audience, Secretary General Dr Raheeq Ahmad Abbasi said that all praise be to Allah Almighty that He enabled us to join such organization as became instrumental in replacing the worldly love with love for Allah and His Prophet (saw). He narrated the following objectives of Minhaj-ul-Quran International:
Invitation to and preaching of Truth
Reformation of Umma
Revival and reconstruction of faith
Propagation and spread of faith
Then Sahibzada Hassan Mohi-ud-Din Qadri was invited to deliver his speech amid thunderous applause. Addressing the Workers Convention, he said that the invitation, mission and destination of Minhaj-ul-Quran International were peace. The relationship of workers of the organization with their leader and with one another is based on mutual brotherhood, peace and love. He prayed to Allah Almighty to strengthen this relationship and keep it intact for good.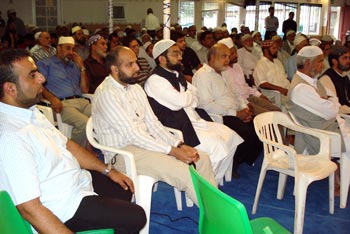 He congratulated the members and office holders of MQI Denmark especially Al-Farghana Institute on their wonderful performance, saying that the way this organization was working clearly indicated that the future of all affiliates was bright. After the speech of Sahibzada sahib, evening prayer was led. Then Bilal Uppal invited Sahibzada Hassan Mohi-ud-Din Qadri to distribute certificates among the 50 associates. He congratulated the recipients of these certificates which also included women and children.

Presenting his vote of thanks, Sayed Mahmood Shah said that the Workers Convention made it clear that there was a further need of spreading the message of MQI. At the end, Sahibzada Hassan Mohi-ud-Din Qadri, Dr Raheeq Ahmad Abbasi and members of European Council inaugurated the Minhaj Sales Centre. He extended special felicitation to Muhammad Ashraf Uppal.

The programme concluded on the Dua led by Sahibzada Hassan Mohi-ud-Din Qadri.