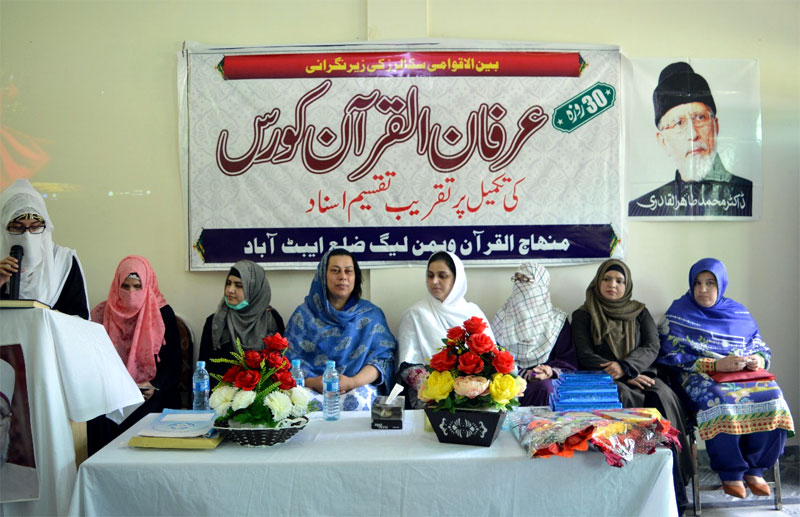 The closing ceremony of Irfan-ul-Quran course #DIQS was held under the banner of MWL Abbottabad in the presence of Miss Fatima Saeed (Zonal Head KPK), Miss Sehar Ambreen (Central Head Dawah and Training department) and Miss Kulsoom Qamar (Deputy Director Eagers).
Miss Uzma Riaz (MNA PTI) and Dr Aqeela attended the ceremony as chief guests along with a large number of women. The ceremony ended with appreciation note in honor of Miss Farzana Qadri, Miss Aneela Shaheen and Miss Rizwana Qadri for successfully organizing Irfan-ul-Quran course in Abbottabad.
Ms. Fatima addressed the organizational Training Workshop after concluding the Irfan-ul-Quran Course. Miss Sehr Ambreen, Miss Kulsoom Qamar and Miss Asma Jaleel ( President MWL Abbottabad) were also present at the occasion.
The workshop began with the recitation of the Holy Quran by Miss Fatima Saeed after which Miss Sehr Ambreen briefed about the projects of Dawat-o-Tarbiyat. Miss Kulsoom Qamar gave briefing on Eagers working plan. Zonal Head KPK, Miss Fatima Saeed briefed the audience about the importance of teamwork and encouraged the attendees to reap maximum benefits of teamwork.
The audience participated actively in the workshop. New members joined the MWL Abbottabad after which they were assigned organizational duties.