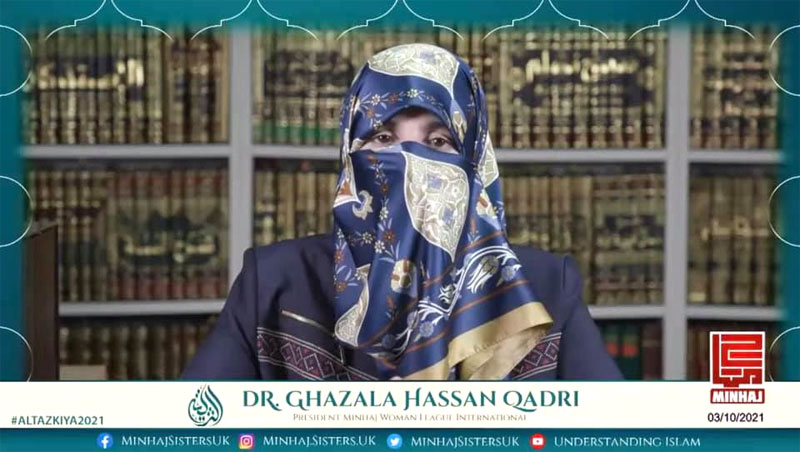 The final session of Al-Tazkiya 2021 commenced with host Sister Aaiza Iqbal giving attendees a warm welcome and introducing Dr Ghazala Hassan Qadri to present her concluding thoughts.
Dr Ghazala firstly explained how the Holy Prophet (PBUH) not only introduced Circles of Knowledge but he (PBUH) also introduced the research work and encouraged the companions to become specialised in different fields. She highlighted how every aspect of knowledge and Tarbiyah and its roots can be traced back to the Sunnah of the Holy Prophet (PBUH).
Dr Ghazala Hassan Qadri also spoke about how the Holy Prophet (PBUH) developed the curriculum. He (PBUH) chose particular subjects to teach and then expanded those subjects as well as introduced new subjects for the companions to study. He (PBUH) taught them to read and subscribe Knowledge relegating to Law, Theology, Morality, Maths, Inheritance, Philosophy, Trade, Commerce. The Holy Prophet (PBUH) also focused on the education of women. In addition to teaching females, he (PBUH) also appointed female teachers. These are a few examples of how the Holy Prophet (PBUH) would teach the companions, and made sure that everyone had access to knowledge.
Dr Ghazala Hassan Qadri highlighted that it can be difficult having many things to do in our daily lives; however nothing is gained without putting in the time and effort to achieve our goals. She said that if we look at what the companions and successors of the companions did and how hard they strived to gain knowledge, then maybe our own lives will not seem so busy and difficult. She said the companions would travel from Madina to Egypt to gain one hadith of the Holy Prophet (PBUH). So, knowledge, she said, comes from hard work, sleep deprivation, studying away at night and working hard in the day and running around pursuing knowledge both physically and metaphorically.
Addressing the participants, she said that if you compare the hardships that people faced to attain one piece of knowledge and compare it with this day and age, it shows we have easy access to knowledge. She said that Shaykh-ul-Islam Dr Muhammad Tahir-ul-Qadri has worked tirelessly for 60 years to collate Knowledge and wrote books on hundreds of different topics so that we have easy access to knowledge. But if we don't study Shaykh-ul-Islam's books then how are we going to preserve the knowledge and transfer this to our coming generations? She said that we will lose our succeeding generations to the world. Our identity and integrity is with the Deen and this comes from knowledge and if we lose our Deen we lose our everything!
The session ended with a closing ceremony hosted by Sister Ansa Hussain (President of Minhaj Sisters UK) and Sister Ambreen Mehmood (Project Lead of Al-Tazkiya 2021). They thanked the guests and everyone who was able to make Al-Tazkiya 2021 possible. They also thanked all the participants and attendees who took out the time from their weekend to pursue their quest for knowledge.