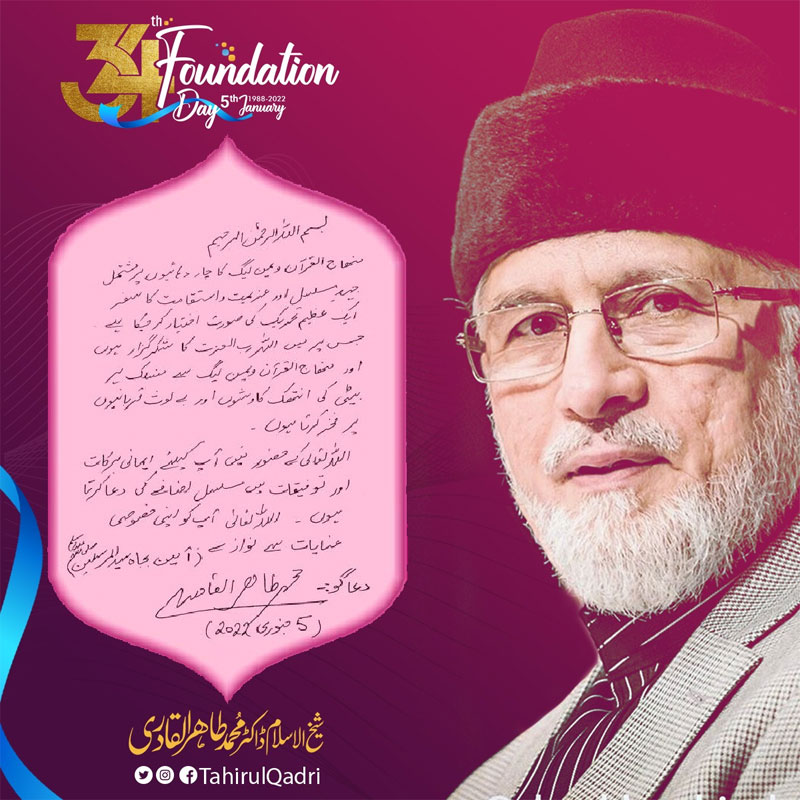 On the auspicious occasion of the 34th foundation-day of Minhaj-ul-Quran Women League, MQI founding-leader and patron-in-chief Shaykh-ul-Islam Dr Muhammad Tahir-ul-Qadri has lauded the efforts and massive contributions made by MWL over the span of the last three decades. He said that women have a key role to play in the building of a civilized and pious society. He said that MWL has worked hard, day in and day out, to promote the message of peace and knowledge and raise awareness about the women rights.
Dr Tahir-ul-Qadri said that MWL has continued on its mission with unwavering determination and resolve. He said that it has waged a marvelous struggle for women empowerment by upholding the Islamic traditions and values. He said that thousands of women have benefitted from the services of MWL, opting to tread the path of spirituality, education and public service. He said that MWL is no more a women-only organization but has transformed itself into a great movement.
MQI leader said that both men and women have equal rights and duties in terms of socio-economic life, education and training. "No society can move forward without including the women in the national mainstream," he added.
Dr Qadri congratulated the office-holders and workers of MWL on their 34th foundation-day and said that the journey of Women League has been splendid in every way. He further said that there is a need to create more awareness among the women about their rights, adding that their protection and success lies in complying with the Islamic values.
Being women organization, @MinhajSisMWL has catered to all age groups and sections of society, related to women, in an appreciable manner. On the festive occasion of its Foundation Day, I extend congratulations to its team and workers from all across the world. #34YearsOfMWL

— Dr. Hassan Qadri (@DrHassanQadri) January 5, 2022
34 years journey of @MinhajSisMWL is an exceptional tenure of performance, contributions, dedication and commitment of our sisters in spreading the dawah work globally. I extend my heartiest congratulations to entire MWL family on its 34th Foundation Day today. #34YearsOfMWL

— Dr Hussain Qadri (@DrHussainQadri) January 5, 2022