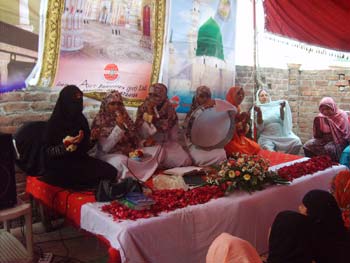 Date: 8th March 2009
Venue: Township, Lahore Pakistan.
Organizer: Minhaj-ul-Qura'n Women League, Iqbal Town, Lahore.
Speaker: Miss Rabia Ghafoor. (Central Coordinator Irfan-ul-Qura'n Center, Pakistan.)
Stage Secretary: Mrs. Irshad Iqbal. (Director Minhaj-ul-Qura'n Women League Iqbal Town.)
By the Grace of Allah Almighty and the blessings of our beloved Rasool Sallallahu alayhi wasallam and the Fayz of our Quaid Hazoor Shykh-ul-Islam his eminence Prof .Dr. Muhammad Tahir-ul-Qadri a Mehfil was organized in celebration of the birth of the Holy Prophet (S.A.W.) by Minhaj-ul-Qura'n women league Iqbal Town Lahore.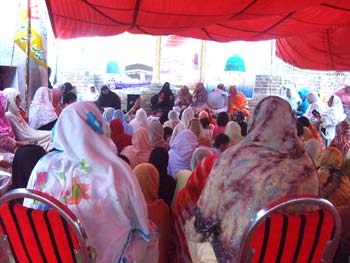 The program began with the divine words of Allah almighty with the recitation of the Holy Quran by Sister Sadaf Iqbal followed by a beautiful Hamd by Sister Ruqaiya Mumtaz & Sister Sidra Mumtaz. Praises for the Holy Prophet (S.A.W) were recited in form of beautiful Nasheeds, Darood-o-Salam & Qaseeda Burda Sharif by Sisters of Minhaj Naat Council Johar Town. The host of the program Mrs. Irshad Iqbal conducted the program with beautiful poems to enlighten the hearts with the Love of our beloved Rasool (S.A.W.). Sister Rabia Ghafoor (Central Coordinator Irfan-ul-Qura'n Center) delivered a beautiful speech on the concept of Ishq-e-Rasool (S.A.W.) & recitation of Darood-o-Salam. She said that Darood-o-Salam is a "Qata-i-u-Qabool" ibadah i.e. it is always accepted by Allah Almighty. Therefore we should daily recite Darood-o-salam as many times as possible.
There was a large attendance of more than 200 youth and women who were gathered to participate in the Millad-un-Nabi (S.A.W).
At the end of the program sisters beautifully sent greetings and salutations upon the Holy Prophet Sallallahu alayhi wa salam and a beautiful Dua was made by Mrs. Shahida Butt (Director Minhaj-ul-Quran Women League UC 132)
May Allah Almighty accept our efforts and give us guidance to organize more blessed Milaad-un-Nabi (S.A.W.) program in the future Insha'Allah. Ameen Baja hay SayyadalMursalin (S.A.W).
Report by Sadaf Iqbal.