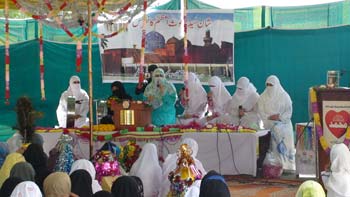 Venue: Bagga Jehlum Pakistan
Organizer: Minhaj-ul-Qura'n Women League, Jehlum, Pakistan
Speaker: Shazia Mazhar (Nazima MWL Jehlum, Member CEC)
Stage Secretary: Saima Siddique (Nizama Nashro-Ishat, Jehlum)
By the Grace of Allah Almighty & the blessings of His Holy Prophet Muhammad (S.A.W.) and the fayz of Shaykh-ul-Islam Prof. Tahir-ul-Qadri Ghous-ul-Azam (R.A) Conference was held at Bagga Jhelum on 10th of April 2009. Sisters from all the UC's of MWL Jehlum were invited to participate. Representatives of MWL from West Colony, Bilal Town, Bagga, Raiya, Chotala, Monun, Saeela, Jada, Kala Gujaran, Janggu, Dina, Sara-e-Alamgir, Sangoi, Toor, Dhok Kanyal, attended this conference with great passion and some special representatives attended this unique event from Hyderabad as well.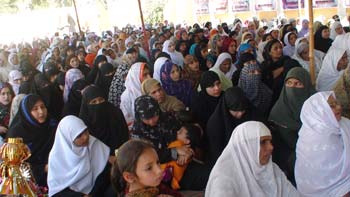 Alhamdulillah a huge number of sisters from all over Jehlum gathered & participated actively to show their love for Hazoor Ghous-ul-Azam (R.A). This was the second biggest function ever held in the history of Jhelum. About 1500 women gathered to attend this Conference.
The Conference was started by the recitation of Holy Quran by Sister Syada Hafiza Shazia Mazhar (President MWL Jhelum Cantt), and then Irfan-ul-Quran Naat Council Jhelum recited Naats & Manqabats very beautifully. Sister Amina Mazhar announced that 8245286 times Darood Sharif was recited by sisters from different areas of Jehlum during the month of Rabbi-us-Sani.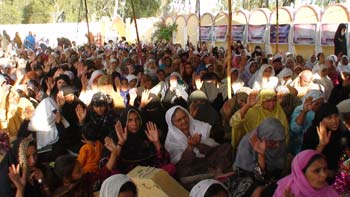 A beautiful lecture was delivered by Syada Hafiza Shazia Mazhar (President MWL Jhelum Cantt) on the Importance of joining Silsla-e-Qadriya which touched the heart of every participant. Alhamdulillah, the message of Ishq-e-Rasool (S.A.W) & Minhaj-ul-Qura'n was delivered beautifully.
A recorded lecture of Shaykh-ul-Islam on the topic of Shan-e- Syedna Ghous-ul-Azam & Silsla-e-Qadriya was displayed.
At the end Sister Syada Nazia Mazhar (President MWL Jhelum) asked questions from participants & gifted CDs to those who answered correctly.
In the end Darood-o-Salam was sent upon our beloved Prophet Muhammad Peace Be upon Him by sisters of Irfan-ul-Quran Naat Council. The conference ended with Sister Syada Shazia Mazhar's prayer.
Monthly Dukhtran-e-Islam, Posters of Minhaj-ul-Amal and Darood-o-Salam were distributed among the new members.
Books, CDs stall and Rafaqat Center also arranged for the participant and most of the participants buy CDs and Books warmly and 40 sisters joined Minhaj-ul-Qura'n Women League.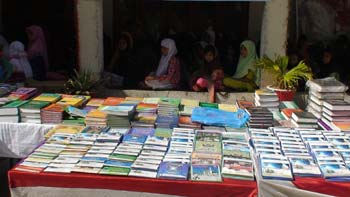 May Allah Almighty accept our efforts!!!
Ameen!!!
Reported by: Saima Siddique (MWL Jehlum, Pakistan.)