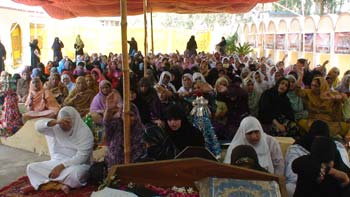 By the Grace of Allah Almighty & the blessings of His Holy Prophet Muhammad (S.A.W.) and the fayz of Shaykh-ul-Islam Prof. Dr Tahir-ul-Qadri, weekly Mehfil of MWL Jhelum was held at Bagga Jhelum on Friday, 7th of May 2009.
This Mehfil was dedicated to renowned intellectual, poet and spiritualist Pir Syed Naseer-ud-Din Naseer Golrwi (R.A.) to pay homage to him for his services. Miss Nosheen Nawaz (M.Sc Economics) Lecturer F.G School & College Jhelum was the Guest of honor. Members of MWL from West Colony, Bilal Town, Bagga, Raiya, Chotala, Monun, Saeela, Jada, Kala Gujaran, Janggu, Sangoi, Toor, Dhok Kanyal, attended this Mehfil. About 500 women gathered to attend this Mehfil. The Mehfil duration was 2pm to 6pm. The proceedings of the program were formally launched with the recitation from the Holy Quran by Hafiza Syada Shazia Mazhar and Naat by Irfan ul Quran Naat Council Jhelum Cantt at 2 p.m.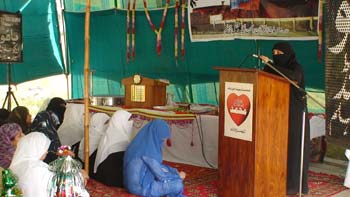 This Mehfil was hosted by Saima Siddique (Naib Nazima Nashro Ashaat Jhelum Cantt.
Hafiza Shazia Mazhar (President MWL Jhelum Cantt), presented condemnatory resolution against the publication of blasphemous book by the man from Kala Gujran Jhelum. All the participants stood up from their seats and raised their hands in favor of the resolution. In addition to hundreds of participants, the guest at the stage also supported the resolution. President MWL Jhelum Cantt demanded of the Session Court Jhelum to take action against blasphemous man.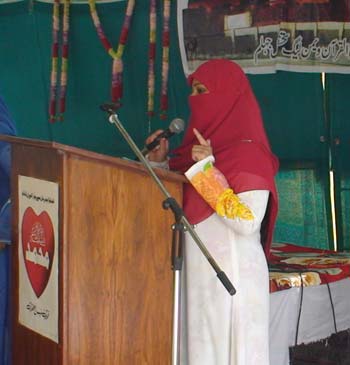 Miss Syada Nazia Mazhar (member CWC and Incharge Halqa-e-Irfan-ul-Quran Jhelum) delivered convincing lecturer on welfare of needy peoples. She said that it is better to build a mosque than the built a Center for needy children because the new generation will be the leader of our country. She asked the crowed if you have humbleness in your heart for these types of peoples, please raise their hands to show that I ready to contribute for this. She also said that there is need of center for children where we train the children soul as well as fulfill their futures needs.
After this Hafiza Shazia Mazhar (President MWL Jhelum Cantt), told in her speech that Holy Prophet said that if you want to search me, search me in the poor's. She also announced the Rs.1000 per month scholarship for the special three years old baby Saher Kanwal. She also said that MWL Jhelum Cantt have planning to setup the team who work for needy children like baby Saher Kanwal of Lillah Jhelum.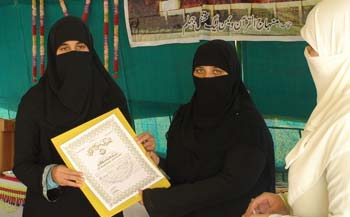 Before presenting the Darood-o-Salam Miss Nosheen Nawaz handedover the Life Membership Certificate to Nadia Khadim of village Chountra Jhelum At the end Darood-o-Salam was presented by Irfan-ul-Quran Naat Council, and Syada Shazia Mazhar (President MWL Jhelum)'s prayer.
After this, speech of Sheikh ul Islam was shows according to the dedication of this Mehfil (this speech was On Chelum of Pir Syed Naseer-ud-Din Naseer Golrwi (RA).
Books, CDs stall and Rafaqat Center also arranged for the participant and as usually.
May Allah Almighty accept our efforts!!!
Ameen!!!
Reported by: Miss Saima Siddique (Naib Nazima Nashro Ashaat MWL Jhelum)