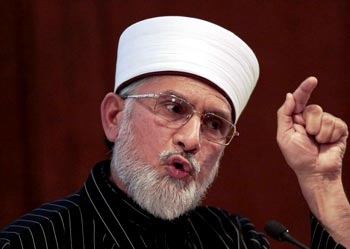 Pakistan Awami Tehreek leader Dr Muhammad Tahir-ul-Qadri has said that the 11th of May will be the seminal point of revolution. He asked the people to attend PAT protest rallies at the district level in their hundreds of thousands and express their no-confidence in the corrupt and exploitative system. He said that the governments worked for progress, prosperity and development of the state, adding that regrettably the present rulers were doing a great damage to both the people as well as the state. He said that if the rulers were given six more months, it would not be possible to bring Pakistan back on track as the country would suffer too much a loss to be able to come out of it.
Dr Tahir-ul-Qadri said this while talking to President of PAT Punjab Basharat Aziz Jaspal telephonically yesterday. He said that by holding the talks with the terrorists on the basis of equality, the rulers had shamed the nation. He said that the terrorists were being freed over and above legal proceedings. He asked as to who gave this right to the government to do this? 'Why does the government not reveal the names of the terrorists?' he said.
Dr Tahir-ul-Qadri stated that the 11th of May was a black day in the history of Pakistan. He said that he had told the nation in advance that a fraud was being committed with the people in the name of elections and democracy. He made it clear that he would announce a course of action for peaceful revolution on May 11, 2014. He asked the nation to prepare for green revolution as the call for the same was around the corner. He said that wave of revolutionaries would sweep away the corrupt people along with their ill-gotten money. He said that the ruling elite were involved in heinous act of selling the state-owned entities, adding that the days of those who bartered away the future of the nation had been numbered. He said that the revolution was the only way forward out of the plethora of challenges the country was stuck in. He said that people would rise peacefully to get back their usurped rights. He said that real democracy would take root after revolution.